Profession
Research
Papers
Patents

E-mail: antonio@licciulli.it

This page has been modified on 27/02/95.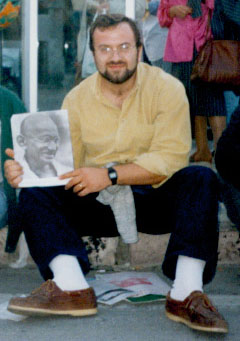 Antonio and Gandhi
My name is Antonio Alessandro Licciulli, I was born in Mesagne (Br), Italy on 24 june 1965. I live in Mesagne where I have many friends and my girlfriend. I love my land but I am also very disappointed because it is so ill-treated. I am a material scientist with ten years experience in the field. I like my work because it allows me to travel meet many different people and never let me bore.
This site is intended to inform about my profession and private interests. It aims to create new job opportunities, discussions and friends.